A key aspect of reading your own tarot is interpreting cards. For a beginner interpreting a single card can be fine, as there are plenty of resources to help you out, however interpreting two or more can be very tricky.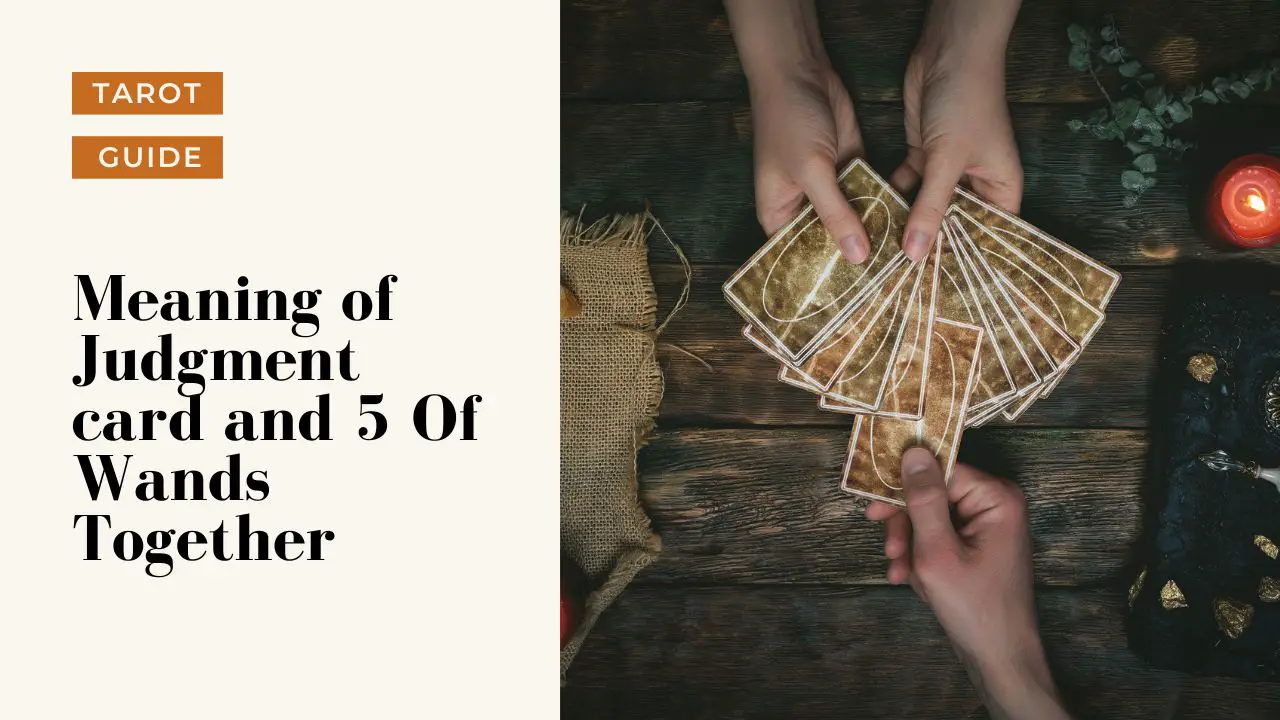 However, if you have been practising single card readings for a while a 2 card spread will be a great introduction into reading multiple cards.
As you've found this page, you're probably wondering how to interpret the Judgment card and 5 Of Wands card together in particular.
The Judgment card and 5 Of Wands have unique qualities and will interact with each other in different ways depending on what kind of reading you are doing.
What does Judgment and 5 Of Wands mean together?
The Judgment tarot card and the 5 Of Wands tarot card mean that you are approaching a moment of clarity, where a proverbial wake-up call will provide you with the clarity and insight needed to make the best, final decision for yourself. This moment of clarity is heightened further by the challenges and rivalry of the 5 Of Wands, as they provide the necessary obstacles that push you to fight and dig deep to uncover your life's purpose, and to truly understand what you're made of. This combination of tarot cards indicate that you will be provided with all the insight and motivation needed to make a decision that you can be proud of.
The meaning may differ depending on what you are asking. Here are some common questions and their possible meanings
What does Judgment and 5 Of Wands mean together for your love life?
When the Judgment tarot card and the 5 of Wands appear together in a love reading, it can signify a moment of clarity and a final decision in your current romantic situation. Perhaps it is time to confront the obstacles that have been in your way and acknowledge the challenges that have been vying for your attention. This could indicate a rivalry between you and someone else or that you are being forced to choose between two potential outcomes. It could also be an indication that you need to discover your life's purpose in order to make the right choice.
This may be a difficult and uncomfortable process, but it is a necessary step for you to make in order to move forward in your life. It is time to take stock of where you have been and where you are going in order to make the best decision for your love life. It may be hard to let go of what has been and to face the challenges ahead, but in doing so, you can position yourself to move closer to true happiness.
This combination of tarot cards can also be a wake-up call to be more proactive in pursuing the relationship of your dreams. The Judgment card can be a reminder that you have the power to control your destiny and should take control of your romantic life. The 5 of Wands encourages you to take decisive action and be daring in your pursuit of love. Ultimately, this combination can signify a period of reflection and re-evaluation of your relationship goals while motivating you to take decisive action towards reaching them.
What does Judgment and 5 Of Wands mean together for your finances?
When Judgment and 5 of Wands appear together in a reading regarding finances and job, it can indicate that you have been working hard to build your career, but have been running into obstacles and challenges along the way. You may have been trying to make a final decision about what the best path is for you to take career-wise, but have been repeatedly held back from doing so due to outer circumstances. This could be financial, or it could be that you've been distracted by competing interests and projects.
The Judgment card in this combination could be suggesting that it's time to take some time out to really reflect and make a clear decision about which direction you need to take. It's a wake-up call to take a step back and really evaluate your life's purpose, and how your career fits into that. Not only will this help you make a sound decision, but it will also give you the clarity and motivation to take the steps needed to make it happen.
The 5 of Wands then indicates that the way forward will be challenging, but far from impossible. It's suggesting that the obstacles you currently face are there as part of the process; you have to compete to reach the top. The card can also signify the need for you to be open to constructive criticism, as it can teach you valuable lessons.
So, with this combination of cards, the message is to take some time to reflect on what it is you really want to do and determine what direction you want to be going in. Then, once you've made your decision, be prepared to face the challenges that come with it. With hard work, determination and resilience, you will be able to reach whatever goals you have set for yourself.
What does Judgment and 5 Of Wands mean together for your health?
The combination of the Judgment tarot card and the 5 of Wands tarot card suggests that it is time to take a closer look at your health. This combination can signify a wake-up call to observe your lifestyle more objectively and intently. It is the time to decide whether the choices you have been making are in service of your health or not. The Judgment tarot card calls for clarity and discernment, so you will be able to gain a better understanding of how to take care of your body in the most effective way.
The 5 of Wands tarot card points to the need to be prepared for some challenges along the way. When it comes to your health, there will be obstacles and rivalries that you will have to overcome. This could be in terms of comparing yourself to other people, or trying to do the same things as them, instead of focusing on what works for you. It's important to be aware of these rivalries, as they can hinder your journey to health and wellbeing.
These two tarot cards come together to remind you that your health is your priority, and it is your responsibility to take care of it. This is not just a physical journey, as your health is deeply connected to your emotional, mental and spiritual well-being. By being honest and open with yourself, and listening to what your body is telling you, you can start to make healthier choices that will ultimately lead to a better quality of life.
The meaning of the cards will depend on what kind of reading you are doing and the question you asked the deck. This is a guide covering the general meanings of the cards and how they relate to each other.
Common 2-card spreads
Whilst it's great to know who these two cards interact with each other, it's important to note that the meaning will depend on the context of your spread
The most common 2 card spreads I recommend to newer readers are:
The 2 card cross (otherwise known as "The Fool's Journey")
The 2 card "Yes or No"
"The Fool's Journey"
Setup: The two card cross is where you place two cards face up, one placed vertically and with one laying horizontally over
Interpretation: The 2 cards represent a "situation" and a "challenge". The first card will describe the situation you are in with the second horizontal card being the "challenge" crossing you (literally crossing you in this case!)
Reading: Using the overviews in this guide is a great way to start. First, look at the meanings of the 2 cards, and see how they might relate either as your "situation" or "challenge". Once you have that you can look at the general overview for how the two cards interact with each other.
The benefit of this spread is that it can give clarity when you're feeling uncertain or anxious. Once you have clarity of thought, and a strong idea of what your challenge is you can find solutions to help your situation
The 2 card "Yes or No"
Setup: The 2 card "Yes or No" is where you place two cards face up side by side, whilst asking your deck a "yes or no" question.
Interpretation: Each card in a tarot deck has a "yes" or a "no" meaning. Look at the meanings of each card, and you will have your answer.
The benefit of this is you get a stronger yes or no compared to a single card draw. You may find you often get a mix of "yes or no", and this is fine. It simply means there is doubt, or things are not yet clear.
Yes or No meaning
Things are a bit tricky for this combination, as Judgment and 5 Of Wands mean different things. The cards are unsure about your question, or the answer to the question has not yet been decided.
The "Yes" and "No" meanings can differ from reader to reader. The meanings here are based on what I believe are the generally accepted definitions.
What does Judgment mean?
For Health: The Judgment Tarot card speaks to the need for a critical assessment of our physical and emotional health. This card encourages us to be honest with ourselves and make the necessary changes to look after our bodies. It is a reminder to become aware of any unhealthy habits we may have picked up, and make sure to address them before they become serious issues. Mental health and wellness are also important, and Judgment can encourage us to take time out of our busy lives and focus on our own individual needs in order to stay afloat.
For Finances: The Judgment Tarot can be a wake-up call when it comes to our finances. This card encourages us to assess our spending habits, budget more wisely, and make sure we're not living beyond our means. It also speaks to the need for clarity and focus when it comes to planning for our future, whether that may be planning to save for retirement or a down payment on a house. Judgment can help us to make smart financial decisions that are both pragmatic and responsible.
For Relationships: Judgement Tarot is often seen as a card that signifies a need to look within, and it can be a great reminder to take stock of our closest relationships and assess whether they are healthy and beneficial or if they need to be reassessed or let go. Judgment encourages us to be mindful of our boundaries, to communicate our needs without fear of judgement, and to ask for what we need in our partnerships and friendships.
What does 5 Of Wands mean?
Health
The 5 of Wands Tarot card represents a physical and mental sense of challenge and rivalry. It suggests the need to strive and impose limits upon oneself. This can manifest as a desire to push oneself physically, through regular exercise or a healthier diet. It could also suggest the need to take on mental challenges and set goals which help to keep oneself motivated and energized. It is a reminder to stay focused and to remain committed to one's own health and well-being.
Finances
The 5 of Wands Tarot card suggests that there may be challenges and obstacles in matters of financial security. There may be a need to pay attention to past mistakes and to be more careful and vigilant with money in the future. It is a reminder to be prepared, to keep an eye on goals and not to become complacent or overly comfortable. It is a reminder to strive for financial growth and take on the challenge of making sound investments, finding ways to save money, and setting and working towards financial goals.
Relationships
The 5 of Wands Tarot card can represent healthy competition and rivalry in relationships. It suggests that it iss important to maintain balance and healthy boundaries within a relationship. It is a reminder to stay open to communication and to accept that there may be differences of opinion. It encourages one to stay focused on the goals of the relationship, to stay connected, and to find ways to challenge each other in positive and constructive ways. It is a reminder to strive for resolution and not to become frustrated or discouraged by obstacles.
Conclusion
Understanding how the meaning of a reading changes once you start involving more than one card can be tricky. This will come with time and practice, however I hope this guide on what your cards might be telling you when you draw Judgment and 5 Of Wands has helped you.